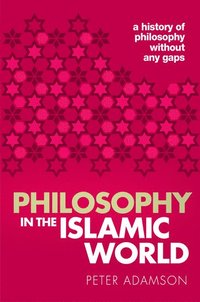 Fler böcker inom
Format

Häftad (Paperback)

Språk

Engelska

Antal sidor

544

Utgivningsdatum

2018-05-31

Förlag

Dimensioner

234 x 157 x 30 mm

Vikt

817 g

Antal komponenter

1

Komponenter

,

ISBN

9780198818618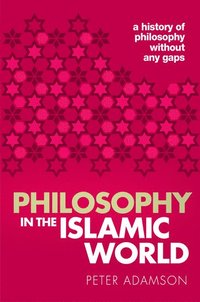 Philosophy in the Islamic World
A history of philosophy without any gaps, Volume 3
Skickas inom 7-10 vardagar.

Gratis frakt inom Sverige över 199 kr för privatpersoner.
Finns även som
Läs i DRM-kompatibel e-boksläsare.

Läs i DRM-kompatibel e-boksläsare.

Skickas inom 7-10 vardagar
Peter Adamson presents the first full history of philosophy in the Islamic world for a broad readership. He traces its development from early Islam to the 20th century, from Spain to Persia. He introduces Jewish and Christian thinkers as well as Muslim; theology, mysticism, and the history of science all feature here in this rich and lively story.
Passar bra ihop
+
Fler böcker av Peter Adamson
Recensioner i media
Jules Janssens, Tidschrift voor Filosofie Adamson gives a solid introduction to this encompassing history, which clearly will help students to acquire a serious first knowledge of this rich and complex history, but also often offers the advanced reader interesting insights.


Carlos Fraenkel, Los Angeles Review of Books [Adamson's] account of philosophy in the Islamic world and the larger project of which it is a part establish a new paradigm for telling the story of philosophy.


Muhammad Khan, The Muslim News This is a well-written and interesting work . . . the author deserves credit for engaging with such a complex subject and making it accessible to the public.


Stuart Kelly, Scotland on Sunday From the first volume onwards, a repeated refrain has been philosophers arguing that being a philosopher is the best choice in life. These books are so engaging, instructive, and diverting, it might almost make you believe that is true.


Steve Craggs, Northern Echo short, conversational chapters sparkling with new ideas, interpretations and a lively sense of humour. Adamson is so easy to learn, absorb, and enjoy, that all the info slips down with hardly a hiccup.


Daniel J. Levy, Jewish News bite-sized, well-indexed chapters on key philosophers, movements, and developments which took place in the Islamic world.



Övrig information
Peter Adamson took his doctorate from the University of Notre Dame and first worked at King's College London. In 2012 he moved to the Ludwig-Maximilians-Universitat Munchen, where he is Professor of Late Ancient and Arabic Philosophy. He has published widely in ancient and medieval philosophy, especially on Neoplatonism and on philosophy in the Islamic world.
Innehållsförteckning
Part I: The Formative Period 1: The Straight Path: Philosophy and Islam 2: All for One: The Mu'tazilites 3: Founded in Translation: From Greek to Syriac to Arabic 4: Philosopher of the Arabs: al-Kind=i 5: The Chosen Ones: Philosophy and Judaism 6: Reasoned Belief: Saadia Gaon 7: High Five: al-R=az=i 8: Aristotelian Society: the Baghdad School 9: The Second Master: al-F=ar=ab=i 10: State of Mind: al-F=ar=ab=i on Religion and Politics 11: Eye of the Beholder: Theories of Vision 12: Strings Attached: Music and Philosophy 13: Balancing Acts: Arabic Ethical Literature 14: Undercover Brothers: Philosophy in the Buyid Age 15: God Willing: the Ash'arites 16: The Self-Made Man: Avicenna's Life and Works 17: By the Time I Get to Phoenix: Avicenna on Existence 18: By All Means Necessary: Avicenna on God 19: Into Thin Air: Avicenna on the Soul 20: Special Delivery: al-Ghaz=al=i 21: Miracle Worker: al-Ghaz=al=i against the Philosophers Part II: Andalusia 22: Philosophy's Reign in Spain: Andalusia 23: Laying Down the Law: Ibn .Hazm and Islamic Legal Theory 24: Fantasy Island: Ibn B=ajja and Ibn Tufayl 25: Back to Basics: Averroes on Reason and Religion 26: Single Minded: Averroes on the Intellect 27: A Matter of Taste: Ibn 'Arab=i and Mysticism 28: Team Spirit: Ibn Khald=un 29: Matter over Mind: Ibn Gabirol 30: Choosing My Religion: Judah Hallevi 31: Born Under a Bad Sign: Freedom and Astrology in Jewish Philosophy 32: With All Your Heart: Ethics and Judaism 33: The Great Eagle: Maimonides 34: He Moves in Mysterious Ways: Maimonides on Eternity 35: Burnt Offerings: the Maimonides Controversy 36: Man and Superman: Gersonides and the Jewish Reception of Averroes 37: Neither the Time nor the Place: .Hasdai Crescas 38: When Bad Things Happen to Good People: Suffering in Jewish Philosophy 39: Chariot of Fire: Kabbalah 40: A Matter of Principles: Joseph Albo and Isaac Abravanel Part III: The Later Traditions 41: Golden Ages: The Later Traditions 42: All Things Considered: Ab=u l-Barak=at al-Baghd=ad=i 43: For the Sake of Argument: Fakhr al-D=in al-R=az=i 44: Let There Be Light: Suhraward=i 45: Bright Ideas: Illuminationism 46: A Man for All Seasons: Na.s=ir al-D=in al-.T=us=i 47: To Be or Not to Be: Debating Avicenna's Metaphysics 48: Eyes Wide Shut: al-R=um=i and Philosophical Sufism 49: Proof Positive: The Logical Tradition 50: By the Book: Ibn Taymiyya 51: Aftermath: Philosophy and Science in the Mongol Age 52: Family Feud: Philosophy at Sh=ir=az 53: Follow the Leader: Philosophy under the Safavids 54: To Be, Continued: Mull=a .Sadr=a on Existence 55: Return to Sender: Mull=a .Sadr=a on Motion and Knowledge 56: Subcontinental Drift: Philosophy in Islamic India 57: Turkish Delights: Philosophy under the Ottomans 58: Blind Alley: Taql=id, Sufism, and Philosophy 59: The Young Ones: Encounters with European Thought 60: The Stronger Sex: Women Scholars in the Islamic World 61: All for One and One for All: Mu.hammad 'Abduh and Mu.hammad Iqb=al 62: Iran So Far: The Heirs of Mull=a .Sadr=a