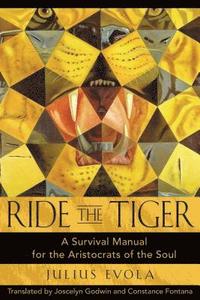 Fler böcker inom
Format

Inbunden (Hardback)

Språk

Engelska

Antal sidor

248

Utgivningsdatum

2003-09-01

Upplaga

1st U.S. ed

Förlag

Översättare

Joscelyn Godwin, Constance Fontana

Dimensioner

242 x 160 x 25 mm

Vikt

480 g

Antal komponenter

1

ISBN

9780892811250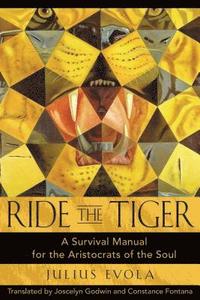 Ride the Tiger
A Survival Manual for the Aristocrats of the Soul
Skickas inom 2-5 vardagar.
Fri frakt inom Sverige för privatpersoner.
The organizations and institutions that, in a traditional civilization and society, would have allowed an individual to realize himself completely, to defend the principal values he recognizes as his own, and to structure his life in a clear and unambiguous way, no longer exist in the contemporary world. Everything that has come to predominate in the modern world is the direct antithesis of the world of Tradition, in which a society is ruled by principles that transcend the merely human and transitory. Ride the Tigerpresents an implacable criticism of the idols, structures, theories, and illusions of our dissolute age examined in the light of the inner teachings of indestructible Tradition. Evola identifies the type of human capable of "riding the tiger," who may transform destructive processes into inner liberation. He offers hope for those who wish to reembrace Tradition.
Passar bra ihop
+
Recensioner i media
"Simply put, Evola shows, unintentionally but with passion, why European Tradition may not be able to match East Asia in riding the tiger in today's world. It lacks a spirituality for today's mundane world, tempered by the harsh realism of Daoism and the practical disciplines of Confucianism." * Reg Little, New Dawn, No. 121, Jul/Aug 2010 * "A dazzling and interesting, but very dangerous author . . ." * Hermann Hesse, author of Siddhartha * ". . . this is an important work for an intellectual history of the twentieth century. . ." * The Journal of Esoterica, July 2006 * "Ride the Tiger offers a practical view of how to be truly awakened in a dark age." * Robert Burns, New Dawn, Sept-Oct 2005 * "Evola rises above the usual dichotomies of left and right, liberal and conservative, challenging us to reconnect our lives and our institutions to the timeless spiritual standard that guided our ancestors." * Glenn A. Magee, author of Hegel and the Hermetic Tradition * "It is one of Evola's greatest merits that he combines a prodigious wealth of erudite detail with the gift of isolating from their local conditioning ideas or disciplines that are of value to us." * Marguerite Yourcenar, author of Memoirs of Hadrian * "Evola looks beyond man-made systems to the eternal principles in creation and human society. The truth, as he sees it, is so totally at odds with the present way of thinking that is shocks the modern mind." * John Mitchell, author of The New View Over Atlantis * "One of the most difficult and ambiguous figures in modern esotericism." * Richard Smoley, in Parabola * "Evola is one of the most interesting minds of the [world] war generation." * Mircea Eliade, author of The Sacred and the Profane *
Bloggat om Ride the Tiger
Övrig information
Julius Evola (1898-1974) was one of the leading authorities on the world's esoteric traditions and wrote extensively on ancient traditions and hermeticism. Among his other works published by Inner Traditions are Men Among the Ruins, Introduction to Magic, The Mystery of the Grail, The Hermetic Tradition, and Eros and the Mysteries of Love.
Innehållsförteckning
Part 1: Orientations 1. The Modern World and Traditional Man 2. The End of a Cycle--"Ride the Tiger" Part 2: In the World Where God Is Dead 3. European Nihilism--The Dissolution of Morals 4. From the Precursors of Nihilism to the "Lost Youth" and the Protest Movement 5. Disguises of European Nihilism--The Socioeconomic Myth and the Protest Movement 6. Active Nihilism--Nietzsche 7. "Being Oneself" 8. The Transcendent Dimension--"Life" and "More Than Life" 9. Beyond Theism and Atheism 10. Invulnerability--Apollo and Dionysus 11. Acting without Desire--The Causal Law Part 3: The Dead End of Existentialism 12. Being and Inauthentic Existence 13. Sartre: Prisoner without Walls 14. Existence, "A Project Flung into the World" 15. Heidegger: "Retreating Forwards" and "Being-for-Death"--Collapse of Existentialism Part 4: Dissolution of the Individual 16. The Dual Aspect of Anonymity 17. Destructions and Liberations in the New Realism 18. The "Animal Ideal"--The Sentiment of Nature Part 5: Dissolution of Consciousness and Relativism 19. The Procedures of Modern Science 20. Covering up Nature--Phenomenology Part 6: The Realm of Art--From "Physical" Music to the Drug Regime 21. The Sickness of European Culture 22. Dissolution in Modern Art 23. Modern Music and Jazz 24. Excursus on Drugs Part 7: Dissolution in the Social Realm 25. States and Parties--Apoliteia 26. Society--The Crisis of Patriotic Feeling 27. Marriage and the Family 28. Relations between the Sexes Part 8: The Spiritual Problem 29. The "Second Religiosity" 30. Death--The Right over Life Notes Index