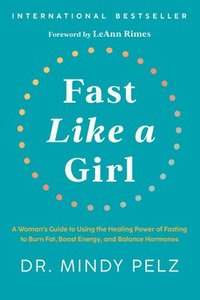 Fler böcker inom
Format

Inbunden (Hardback)

Språk

Engelska

Antal sidor

352

Utgivningsdatum

2022-12-27

Förlag

Dimensioner

231 x 157 x 36 mm

Vikt

545 g

Antal komponenter

1

ISBN

9781401969929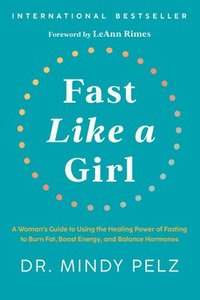 Fast Like a Girl
A Womans Guide to Using the Healing Power of Fasting to Burn Fat, Boost Energy, and Balance Hormones
Skickas från oss inom 1-2 vardagar.

Fri frakt över 249 kr för privatkunder i Sverige.
International BESTSELLER! WALL STREET JOURNAL BESTSELLER! PUBLISHER'S WEEKLY BESTSELLER! Includes a 30-Day fasting reset that uses the power of your cycleeven if you no longer have one! A go-to fasting manual created specifically to address women's needs based on their hormones and menstrual cycle by Dr. Mindy Pelz, a well-known expert on women and fasting, whose fast-growing YouTube channel has become the destination for women who want to learn about fasting. Are you among the many women who feel unheard and unseen by their doctors and health professionals? Have you become exhausted by the promise of quick-fix diets that only leave you disappointed? Well in Fast Like a Girl, Dr. Mindy helps you to take back control of your health by using the quickest path back to better healthfasting. While most fasting advice has been a one-size-fits-all approach that leaves women with more questions than answers, in this book Dr. Mindy shares the proven strategies, specific protocols to use if you are trying to overcome a condition, fasting hacks, and tools that she has used to help hundreds of thousands of women thrive with their fasting lifestyles. Dr. Mindy will teach you: the rights steps on how to go from eating all day to intermittent fasting (13-15 hours) how to safely fast longer if you choose to do so (15-72 hours) how to time fasting according to your menstrual cycle (although if you dont have a cycle, she has you covered) the best foods to break your fast to achieve better metabolic health This book also includes more than 50 recipes based on the two food plansketobiotic and hormone feastingshe created to best support womens hormones. And, it has recipes specifically created to break a fast such as her Coconut Cacao Chia Pudding. Inspired by the thousands of women she has worked with who have reclaimed their health with fasting, Dr. Mindy wrote this book because, once a woman knows how to build a fasting lifestyle around her cycle, she becomes unstoppable.
Passar bra ihop
+
Fler böcker av Dr Mindy Pelz
Dr Mindy Pelz

A transformational plan for women who find themselves struggling through their menopausal years and who may be experiencing sudden symptoms such as sleepless nights, irritable moods, unexplained anxiety, trouble retrieving words, weight gain, and ...

Dr Mindy Pelz

Ditch your menopause symptoms and feel like yourself again!Are you struggling through your menopausal years? As if from out of nowhere, you experience symptoms such as sleepless nights, irritable moods, unexplained anxiety, trouble retrieving word...
Recensioner i media
If youve grown tired of one-size-fits-all health advice that leaves you feeling disappointed, this book will feel like a breath of fresh air. Dr. Mindy Pelz will help you create a plan thats unique to your body and your goals. She combines ground-breaking research, powerful stories and a clear guide to greater health. - Jessica Ortner, New York Times bestselling author of The Tapping Solution Dr. Mindy is the Warren Buffet of fasting. - Jesse Itzler, entrepreneur, New York Times bestselling author, endurance athlete and an owner of the Atlanta Hawks I have never met someone that has more respect for the body and its innate intelligence to heal than Mindy. Her reverence for the body is met with an intense passion for helping people learn how to tap into it through the timing of fasting, eating and detoxing. This way of living is the way of the future for all women if they want to truly thrive. - Danica Patrick, entrepreneur and former race car driver Fast Like a Girl is an amazing book that is both inspiring and informative. Its a wealth of knowledge for any woman who wants to reclaim their health. It will leave you feeling motivated and ready to take on the world. - Megan Ramos, New York Times bestselling author, co-founder and CEO of The Fasting Method Fasting is an incredible tool for longevity and healing. With Fast Like a Girl, women finally have a go-to manual designed specifically to their unique hormonal needs. - John Gray, New York Times bestselling relationship author of Men Are from Mars, Women are from Venus In her ground-breaking book, Fast Like a Girl, Dr. Mindy Pelz provides a much-needed manual on fasting specifically for women. - Elle Macpherson, founder of Wellco, humanitarian, supermodel and actress At a time when all of us are looking for ways to improve our health and vitality, Dr. Mindy Pelz offers great advice. This book is about fasting, but also so much more. Its about our womanhood, our health and our lives. - Marianne Williamson, four-time New York Times bestselling author A much-needed fasting resource for women! - Sara Gottfried MD, New York Times bestselling co-author of The Hormone Cure Fasting is such an incredible tool for our mental and physical health. Dr. Mindy is my go-to for fasting! Shes teaching women like me how to tap into our innate intelligence while minding our hormones. - Alexandra Elle, author of After the Rain and How We Heal Its possible to say goodbye to being tired and hungry all the time. Fast Like a Girl will teach you how long and when to fast so your hormones will support you instead of working against you. Welcome to getting your brain back and having to buy new, smaller pants! - Dave Asprey, author of four New York Times bestselling books, including Fast This Way Fasting is not a one-size-fits-all approach. Dr. Mindy Pelz is one of the leading experts in this area of fasting for women, and she truly understands how fasting is different for both men and women. If youre a woman and want to get the most out of fasting, then this is the book for you. - Drew Manning, creator of TV show Fit2Fat2Fit and New York Times bestselling author of Fit2Fat2Fit Fasting is such a powerful healing tool. In Fast Like a Girl, Dr. Mindy does an excellent job of helping women understand how they can use fasting to power up their hormones, as well as providing tips and strategies that are easy to follow and tailored specifically for women. - Josh Axe DC, DNM, CNS, founder of Ancient Nutrition and DrAxe.com, bestselling author of Keto Diet, The Collagen Diet and Ancient Remedies Wow. Didnt think Dr. Mindy could achieve the same brilliance as she put forth in The Menopause Reset but she did going above and beyond. This should be required reading for any and every woman on the planet wanting to bring metabolic flexibility, vitality and longevity to their life! Packed with good science, resou
Övrig information
Dr Mindy Pelz has become known as the go-to women's fasting expert. A three-time author, keynote speaker, nutrition and functional medicine expert and social media influencer, she has spent more than two decades inspiring women to use lifestyle tools to reset their health successfully. www.drmindypelz.com