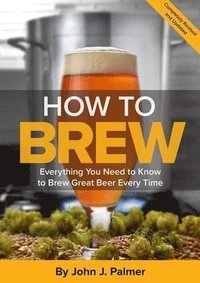 Fler böcker inom
Format

Häftad (Paperback)

Språk

Engelska

Antal sidor

582

Utgivningsdatum

2017-06-01

Upplaga

Fourth Edition

Förlag

Illustratör/Fotograf

Illustrationer

Recipes; Illustrations, unspecified; Tables; Charts; Halftones, Black & White including Black &a

Dimensioner

254 x 176 x 29 mm

Vikt

1063 g

Antal komponenter

1

ISBN

9781938469350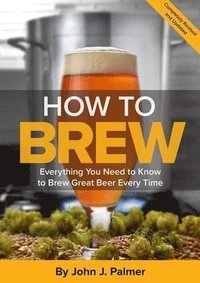 How to Brew
Everything You Need to Know to Brew Great Beer Every Time
Skickas från oss inom 7-10 vardagar.

Fri frakt över 199 kr för privatkunder i Sverige.
Finns även som
Läs i DRM-kompatibel e-boksläsare.
How to Brew is the definitive guide to making quality beers at home. Whether you want simple, sure-fire instructions for making your first beer, or you're a seasoned homebrewer working with all-grain batches, this book has something for you. John Palmer adeptly covers the full range of brewing possibilities-accurately, clearly and simply. From ingredients and methods to recipes and equipment for brewing beer at home, How to Brew is loaded with valuable information on brewing techniques and recipe formulation. A perennial best seller since the release of the third edition in 2006, How to Brew, is a must-have to update every new and seasoned brewer's library. This completely revised and updated edition includes: More emphasis on the "top six priorities": sanitation, fermentation temperature control, yeast management, the boil, good recipes, and water. Five new chapters covering malting and brewing, strong beers, fruit beers, sour beers, and adjusting water for style. All other chapters revised and expanded: Expanded and updated charts, graphs, equations, and visuals. Expanded information on using beer kits. Thorough revision of mashing and lautering chapters: Expanded tables of recommended times and temperatures for single-infusion, multiple-step, and decoction mashing. Complete discussion of first wort gravity as a function of water to grist ratio. Complete revision of infusion and decoction equations. Revised and updated information on managing your fermentation: Yeast pitching and starters. Yeast starter growth factors. Yeast and the maturation cycle. And much more!
Passar bra ihop
+
Kundrecensioner
Det finns 2 recensioner av How to Brew. Har du också läst boken? Om du har köpt den på Bokus.com vill vi gärna höra vad du tyckte om den!
Sätt ditt betyg »
Ett måste för hembryggaren

Den nya utgåvan av denna klassiker är snäppet bättre än den förra, och bör stå i bokhyllan hos alla hembryggare på olika kunskapsnivåer. Särskilt på plussidan är de omarbetade kapitlen om jäsning och vattenbehandling. I synnerhet jäsningen hanteras föredömligt. Några nya kapitel har tillkommit också, exempelvis om suröl. Enda stora minuset är att oxidering känns en smula nedtonat, konstigt nog.

Uppdaterad klassiker

How to brew är ett givet köp både för kompletta nybörjare samt de som redan hunnit brygga några gånger och vill utöka sin kunskap. Välskriven och lätt att förstå, utan att göra avkall på detaljnivån!
Fler böcker av John J Palmer
John J Palmer, Colin Kaminski

Water is arguably the most critical and least understood of the foundation elements in brewing. For many brewers used to choosing from a wide selection of hops and grain, water seems like an ingredient for which they have little choice but to acce...

John J Palmer

"Erfolgreich Bier brauen", das jetzt in einer vollständig überarbeiteten und aktualisierten Ausgabe vorliegt, gilt als ein Standardwerk für alle, die hochwertiges Bier zu Hause herstellen. Ganz egal, ob Sie einfache, todsichere Anweisung...
Recensioner i media
If a homebrewer were to have only one brewing book, it would have to be How to Brew by John Palmer. How to Brew covers it all-from beginner to advanced brewing and everything in between. For the beginner, the first chapter has you covered with all you need to know to start brewing. From there, you can read on to gain further knowledge at whatever pace you choose. For more experienced brewers, How to Brew is a reference book for just about everything you want to know about brewing beer at home, covering ingredients, equipment and brewing techniques. No homebrewer should be without this book. -- Gary Glass, Director, American Homebrewers Association How deep do you want to go?Congratulations, with How to Brew you hold in your hands a unique body of brewing knowledge. Some books are like a puddle, perfect for splashing through in your intellectual rain boots; others are like a well, deep, but hard to get in and out of. This book is more like a veritable lake. If you want to dip your toe in, you can comfortably do that. If you are interested in swimming for the deep water, that is here too. John Palmer's clear and approachable style when writing on the theory and technique of brewing is as simple or complex as you desire. It will give you the confidence to quickly fire off your first batch, and provide comprehensive insights for when you are well into your brewing journey. This is a great resource. Come on in, the water is fine! -- John Mallett, Director of Operation, Bell's Brewery, Inc. and author of Malt: A Practical Guide from Field to Brewhouse I have always considered How to Brew the best complete resource for both new and experienced brewers. In this new edition, John has made a great resource even better and up to date with the latest information and techniques. How to Brew has all you need to go from complete novice to expert brewer. If you brew, you should own this book. -- Jamil Zainasheff, Author of Brewing Classic Styles and Chief Heretic of Heretic Brewing Company Not only is How to Brew one of the most critical and comprehensive DIY homebrewing books available today, I have even seen it on the bookshelves at many great craft breweries. -- Sam Calagione, CEO and Founder, Dogfish Head Craft Brewery Owning How to Brew is like having a brewmaster as your best friend. In the 30-plus years since the American craft beer revolution got its start, countless brewing books have appeared. None, however, has achieved the status of How to Brew, which is thorough, comprehensive, and beautifully organized. And now, this new expanded and enhanced edition improves on the original. It's a considerable feat to create a book that is invaluable both to first-time brewers and professional brewmasters, but John has done it with a book that is essential for everyone who is serious about brewing. -- Jim Koch, Founder & Brewer of Samuel Adams Whenever I'm asked about what books I'd recommend to a brewer, I always recommend John Palmer's How to Brew. It is jam-packed with information that will help beginning brewers get started, and the more advanced technical brewing chemistry and science details that experienced brewers need to become great brewers. It works at all levels. -- Mitch Steele, COO and Brewmaster, New Realm Brewing Company John Palmer's How to Brew has been a great resource for homebrewers ever since he self-published the first edition in 2000. As the former owner of a homebrew supply store myself, I appreciate John's focus on how to avoid some common pitfalls that many aspiring brewers stumble over with his wise emphasis on "the top five priorities." From the basics (equipment and raw materials), to the critical (cleanliness), to the fun part (making your own beer recipes), this book covers the brewing process from start to finish. This new edition offers more information with an updated layout and expanded table of contents, which make it even easier to use. Anyone contemplating homebrewing, or looking to step up
Övrig information
John Palmer is one of the most recognized names in homebrewing today. The author of three books and countless articles, he enjoys applying practical engineering know-how to the art and science of brewing beer. Through his bestselling Brewers Publications title, How to Brew: Everything You Need to Know to Brew Great Beer Every Time, John has helped hundreds of thousands of readers learn to successfully brew their own beer at home. Palmer co-authored two other books on brewing: Brewing Classic Styles: 80 Winning Recipes Anyone Can Brew with homebrewing legend and Heretic Brewing Company founder Jamil Zainasheff and Water: A Comprehensive Guide for Brewers, the definitive guide to water chemistry for brewing with Colin Kaminski, former brewmaster at Napa's Downtown Joe's Brewery and Restaurant. Palmer is involved in many scientific and professional brewing associations. He left a career in aerospace research and development, and metallurgy in 2011 to found Palmer Brewing Solutions, Inc. He now focuses on brewery consulting and product development with key brewing industry manufacturers and serves as publications director for the Master Brewers Association of the Americas. When he's not brewing beer, writing about beer, or developing brewing equipment, John enjoys woodturning, blacksmithing, and reading sci-fi/fantasy. He lives in California with his wife, three children, and his cat, Shadow.
Innehållsförteckning
Table of Contents Acknowledgments Table of Contents List of Tips, Tables, & Significant Figures Introduction Section I-Brewing Beer Kits Chapter 1 - A Crash Course in Brewing What Do I Do? Brew Day Equipment Needed Preparation Making Wort Fermentation Week(s) Bottling Day Serving Day But Wait! There's More! Chapter Two - Sanitation The Road to Good Brewing Preparation Sanitation Cleaning Products Cleaning Your Equipment Sanitizing Products Heat Cleaning and Sanitizing Final Thoughts Record Keeping Example Recipe Form Chapter 3 - A Short Discourse on Malting and Brewing A Brief Discussion of Barley and Malt The Production of Malt Extract Cooking the Wort Full Boil vs. Partial Boil Building a Beer Chapter 4 - Malt Extract and Beer Kits Choosing a Good Kit Shopping for Extracts How Much Extract to Use Gravity vs. Fermentability Steeping Specialty Grains Chapter 5- Hops What Are They? Why Are Hops Bitter? How Are They Used? First Wort Hopping Bittering Flavoring Finishing (Whirlpool Hops) Dry Hopping Hop Forms - Pellets, Plug and Whole Hop Variety Types Bittering Hop Varieties Dual Purpose Hop Varieties Aroma Hop Varieties How to Measure Hops Hop Bitterness (IBU) Calculations Gravity of the Boil Utilization Hop IBU Nomograph Chapter 6 - Yeast and Fermentation How Yeast Work Defining Fermentation ...................... 99 Lagtime or Adaptation Phase ..... 100 High growth or Attenuative Phase 101 Conditioning Phase...................... 102 Cold Conditioning / Lagering...... 103 Building a Better Fermentation ........ 104 Oxygen and Aeration ................. 105 Nitrogen ...................................... 106 Necessary Minerals...................... 107 Nutritional Supplements ............. 108 Open vs. Closed Fermentation ........ 109 Chapter 7 -Managing Your Yeast Yeast Types Yeast Forms Yeast Strains Dry Yeast Strains Liquid Yeast Strains Yeast Nutritional Needs Nutritional Supplements Oxygen Aeration is Good, Oxidation is Bad Preparing Yeast and Yeast Starters Preparing Dry Yeast Preparing Liquid Yeast When Is My Yeast Starter Ready to Pitch? Using Yeast From Commercial Beers Support Your Local Micro Simple Yeast Ranching Chapter 8 - Water For Extract Brewing Two Things What is Good Brewing Water? How to Read a Water Quality Report Adding Brewing Salts Chapter 9 - Brewing Your Second Batch First Recipe Beginning the Boil The Hot Break Hop Additions Kettle Fining Cooling the Wort Water Bath Ice Copper Wort Chillers Choosing Your Fermentor Buckets vs. Carboys Airlocks vs. Blowoffs Transferring the Wort Conducting Your Fermentation Pitching the Yeast Fermentation Location Fermentation Racking Estimating the Alcohol Content Chapter 10 - Priming, Bottling, and Kegging When to Bottle Bottle Cleaning Fining What Sugar Should I Prime With? Commercial Priming Agents Bottle Filling Storage Kegging Chapter 11 - Brewing Lager Beer Yeast Differences Additional Time Lower Temperatures Autolysis Lager Yeast Fermentation When to Begin Lagering Aagh!! It Froze!! Should I Add More Yeast? Maintaining Lager Temperature Priming and Bottling of Lager Beer Bottling Brewing American Lager Beer Recipe-Typical American Lager Chapter 12 - Brewing Strong Beers Chapter 13 - Brewing Fruit Beers Chapter 14 - Brewing Sour Beers Section II-All-Grain Brewing Chapter 15 - Understanding Malted Barley & Adjuncts What is Malting? Maillard Reactions and Flavor Development Malt Types and Usages Base Malts Kilned Malts Caramel Malts Roasted Malts Other Grains and Adjuncts How To Read a Malt Analysis Sheet Chapter 16 - How the Mash Works An Allegory Defining the Mash The Acid Rest Doughing-In and Beta Glucanase The Protein Rest and Modification Starch Conversion/Saccharification Rest