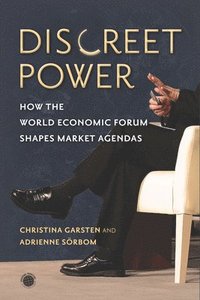 Fler böcker inom
Format

Inbunden (Hardback)

Språk

Engelska

Antal sidor

240

Utgivningsdatum

2018-07-10

Förlag

Medarbetare

Seorbom, Adrienne

Dimensioner

231 x 160 x 23 mm

Vikt

499 g

Antal komponenter

1

ISBN

9780804794145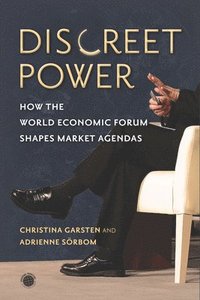 Discreet Power
How the World Economic Forum Shapes Market Agendas
Skickas inom 5-8 vardagar.
Fri frakt inom Sverige för privatpersoner.
In Discreet Power, Christina Garsten and Adrienne Soerbom undertake an ethnographic study of the World Economic Forum (WEF). Accessing one of the primary agenda-setting organizations of our day, they draw on interviews and participant observation to examine how the WEF wields its influence. They situate the WEF within an emerging system of "discretionary governance," in which actors craft ideas and entice formal authorities and top leaders in order to garner significant sway. Yet in spite of its image as a powerful, exclusive brain trust, the WEF has no formal mandate to implement its positions. It must convince others to advance chosen causes and enact suggestions, rendering its position quite fragile. Garsten and Soerbom argue that the WEF must be viewed relationally as a brokering organization that lives between the market and political spheres and that extends its reach through associated individuals and groups.They place the WEF in the context of a broader shift, arguing that while this type of governance opens up novel ways of dealing with urgent global problems, it challenges core democratic values.
Passar bra ihop
+
Recensioner i media
"Between raw forces of the global economy and disordered world politics lie organizations that are neither political nor economic. The World Economic Forum is central among these structures. Garsten and Soerbom give a most impressive depiction and analysis of its role-responsible but undemocratic-in what is now called global governance." -- John W. Meyer * Stanford University * "In this informative study, Carsten and Soerbom explore both the inner workings and the communication strategies of the World Economic Forum....[T]he authors conclude that the WEF does perform a useful service, even if it is biased toward elite perceptions." -- Richard N. Cooper * <i>Foreign Affairs</i> * "This is an outstanding exemplar of a very difficult genre in the craft of ethnography: working within the highest reaches of elite organization. The challenge lies less in limited access than in not reinforcing our deep-seated stereotypes of what goes on in such groups. This work is distinguished by its observational quality and derived expression of the stakes and issues at hand." -- George Marcus * University of California, Irvine *
Bloggat om Discreet Power
Övrig information
Christina Garsten is Professor of Social Anthropology at Stockholm University. She is the author of Workplace Vagabonds (2008).Adrienne Soerbom is Associate Professor of Sociology at Stockholm University.
Innehållsförteckning
Contents and AbstractsIntroduction chapter abstract 1Disentangling Discretionary Governance chapter abstractGarsten and Soerbom provide a view of the WEF as an ethnographic field and describe their experimental methodological design. The authors emphasize the close intertwining of methodology and theory; they show how they learned about the politics of discretion in practice by negotiating for access, being denied, rejected, and sometimes also welcomed as they worked to study the WEF. The interplay of secrecy and transparency that the Forum draws on for its mobilization is indicative of the WEF as a discretionary space, asserting community by shielding itself from the public eye. Providing open platforms for dialogue and creating safe spaces for deliberation are mechanisms for networking, information sharing, and advocacy, but they are also instruments of discretionary governance. They serve to extend the mechanisms of indirect and discreet political power into other public spheres and organizations, and may have an unaccountable influence on ideological, political, and financial forms of power. 2Liquid Mandate chapter abstractChapter 2 looks at the liquid mandate on which the WEF bases its activities. The authors describe how it is possible for WEF, which lacks a state-based mandate, to position itself as a legitimate actor at the global level. This brings to the fore the seductive strategies in which the Forum is so proficient. With the "right" people attending, legitimacy rubs off onto the organization. The network of contacts that the WEF organizes, characterized by opacity and a high degree of global sway, is a consequence of the corporate-based mandate they enjoy. Garsten and Soerbom discuss "discretionary governance" as the specific form of governance by which the Forum operates. In light of the relative lack of democratic characteristics such as representation and accountability, they argue that this type of governance entails a withdrawal of the elites into secluded and exclusive communities. 3Setting Precedence chapter abstractGarsten and Soerbom describe the authoritative capabilities of the WEF in terms of communicative power. Based on their ethnographic observations and descriptions, the chapter reveals how the activities of the WEF are consequential precisely through its communication. Communication, the authors suggest, is the means by which organizations are designed, created, and sustained and is the base of power and authority. At WEF, communication entails working on setting precedence in issues related to global policy and markets, to frame and articulate issues, problems, and solutions. These processes may on the surface appear not to involve conflict; however, the lack of open conflict does not necessarily mean lack of conflict. Conflict, and the cultivation of harmony discourse, are recurrent around the Forum, 4The Status Machinery chapter abstractChapter 4 takes a closer look at how the status machinery of the WEF works. The Forum provides an exclusive and closed arena on which a level of hype, urgency, and topicality is produced. The processes by which individuals are selected to participate in discussing, debating, and advocating solutions to urgent global problems are meticulously prepared. The Forum draws into its orbit carefully chosen individuals who are organized into communities of expertise, a "brain trust," that highlights and celebrates particular individuals, ideas, and actions. Garsten and Soerbom reflect on these processes and how they work to distance the WEF and its selected crowd from the public. By this process, the Forum creates and enhances status distinction and contributes to the formation of a new transnational elite, or what the authors call an aspiring class. 5Mobilizing for the Future chapter abstractWEF activities distinctly formatted around the future- mobilizing the young and presenting future scenarios-are discussed in this chapter. T