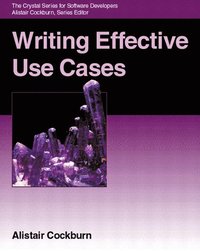 Fler böcker inom
Format

Häftad (Paperback)

Språk

Engelska

Antal sidor

304

Utgivningsdatum

2000-10-01

Upplaga

1

Förlag

Dimensioner

235 x 190 x 20 mm

Vikt

500 g

Antal komponenter

1

ISBN

9780201702255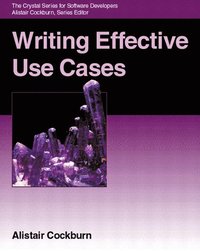 Writing Effective Use Cases
Skickas från oss inom 7-10 vardagar.

Fri frakt över 199 kr för privatkunder i Sverige.
Writing use cases as a means of capturing the behavioral requirements of software systems and business processes is a practice that is quickly gaining popularity. Use cases provide a beneficial means of project planning because they clearly show how people will ultimately use the system being designed. On the surface, use cases appear to be a straightforward and simple concept. Faced with the task of writing a set of use cases, however, practitioners must ask: "How exactly am I supposed to write use cases?" Because use cases are essentially prose essays, this question is not easily answered, and as a result, the task can become formidable.
In
Writing Effective Use Cases,
object technology expert Alistair Cockburn presents an up-to-date, practical guide to use case writing. The author borrows from his extensive experience in this realm, and expands on the classic treatments of use cases to provide software developers with a "nuts-and-bolts" tutorial for writing use cases. The book thoroughly covers introductory, intermediate, and advanced concepts, and is, therefore, appropriate for all knowledge levels. Illustrative writing examples of both good and bad use cases reinforce the author's instructions. In addition, the book contains helpful learning exercises--with answers--to illuminate the most important points.
Highlights of the book include:
A thorough discussion of the key elements of use cases--actors, stakeholders, design scope, scenarios, and more
A use case style guide with action steps and suggested formats
An extensive list of time-saving use case writing tips
A helpful presentation of use case templates, with commentary on when and where they should be employed
A proven methodology for taking advantage of use cases
With this book as your guide, you will learn the essential elements of use case writing, improve your use case writing skills, and be well on your way to employing use cases effectively for your next development project.
0201702258B04062001
Passar bra ihop
+
Fler böcker av Alistair Cockburn
Övrig information
Alistair Cockburn is a recognized expert on use cases. He is consulting fellow at Humans and Technology, where he is responsible for helping clients succeed with object-oriented projects. He has more than twenty years of experience leading projects in hardware and software development in insurance, retail, and e-commerce companies and in large organizations such as the Central Bank of Norway and IBM.0201702258AB07302002
Innehållsförteckning


Preface.


Acknowlegments.


1. Introduction.

What Is a Use Case (More or Less)?USE CASE 1. Buy Stocks over the Web.USE CASE 2. Get Paid for Car Accident.USE CASE 3. Register Arrival of a Box.Your Use Case Is Not My Use Case.USE CASE 4. Buy Something (Casual Version).USE CASE 5. Buy Something (Fully Dressed Version).Steve Adolph: Discovering Requirements in New Territory.Requirements and Use Cases.Use Cases as Project-Linking Structure.Figure 1: The Hub-and-Spoke Model of Requirements.When Use Cases Add Value.Manage Your Energy.Warm Up with a Usage Narrative.Usage Narrative: Getting Fast Cash.Exercises.
PART I. THE USE CASE BODY PARTS.
2. The Use Case as a Contract for Behavior.
Interactions between Actors with Goals.Actors Have Goals.Figure 2: An Actor with a Goal Calls on the Responsibilities of Another.Goals Can Fail.Interactions Are Compound.A Use Case Collects Scenarios.Figure 3: Striped Trousers: Scenarios Succeed or Fail.Figure 4: The Striped Trousers Showing Subgoals.Contract between Stakeholders with Interests.Figure 5: The Sud Serves the Primary Actor, Protecting Offstage Stakeholders.The Graphical Model.Figure 6: Actors and Stakeholders.Figure 7: Behavior.Figure 8: Use Case as Responsibility Invocation.Figure 9: Interactions as Composite.
3. Scope.
Table a Sample In/Out List.Functional Scope.The Actor-Goal List.Table a Sample Actor-Goal List.The Use Case Briefs.Table Sample Use Case Briefs.Design Scope.Figure 10: Design Scope Can Be Any Size.Using Graphical Icons to Highlight the Design Scope.Design Scope Examples.Enterprise-to-System Examples.USE CASE 6 Add New Service (Enterprise).USE CASE 7 Add New Service (Acura).Many Computers to One Application.USE CASE 8 Enter and Update Requests (Joint System).USE CASE 9 Add New Service (into Acura).USE CASE 10 Note New Service Request (in BSSO).USE CASE 11 Update Service Request (in BSSO).USE CASE 12 Note Updated Request (in Acura).Figure 11: Use Case Diagrams for Acura-BSSO.Figure 12: A Combined Use Case Diagram for Acura-BSSO.Nuts and Bolts Use Cases.USE CASE 13 Serialize Access to a Resource.USE CASE 14 Apply a Lock Conversion Policy.USE...